How does a clamp-on ultrasonic flowmeter operate?
U-F-M b.v.
2022-06-07T14:44:49+00:00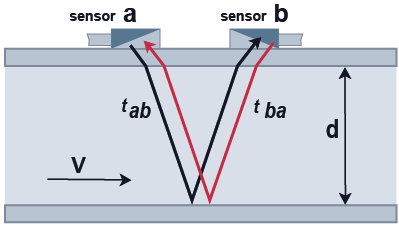 U-F-M | Katronic KATflow clamp-on ultrasonic flowmeters operate according the Transit-Time ultrasonic principle. This means that the transit time difference between the transmitted and received signal is measured by the two associated sensors. It is a more efficient way of determining flow than most other measurement systems providing an extremely accurate measurement.
The clamp-on sensors are installed on the exterior of the pipe. They receive ultrasonic pulses through the pipe wall. The fluid (or gas) flowing inside the pipe causes time differences, frequency deviations and phase separation in the ultrasonic signals. These are evaluated by the flowmeter and thus a very reliable measurement is achieved.
The main principle is that sound waves that go with the current flow are faster than those that go against the current. The difference in the flowtime of these signals is directly proportional to the flowrate of the fluid or gas.
With the help of electronics incorporated in the flowmeter, elements that can influence the measurement are compensated (for example flow profile, fluid type and tube material).